Herbal Tea makes weight loss a lot easier than most programs can ever make it. Sipping a cup of herbal tea every day can accomplish more than most weight loss diets you'll ever be on. Sometimes the solution you travel far looking for is right there in your neighborhood and that's the case with herbal tea – one of the best ways to shed off weight is right there in your kitchen.
These tea are quite affordable, you can get them in major Pharmaceutical stores in Lagos, Portharcourt, Abuja or any where you are in Nigeria because most are imported from China and other European countries.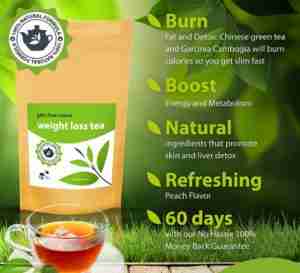 Herbal Teas contain various antioxidants and other beneficial compounds that have been found to rapidly increase the rate of metabolism in the body. This increase in metabolism in most cases equals an increase in the rate of fat burn offs. So if you're actually watching your weight or looking for a way to shed off those excess fats then you should consider getting your hands on a cup of hot, steaming herbal tea everyday.
The beauty of herbal tea is that most lack calories. Most herbal teas have been found to contain zero or very minute amounts of calories such that they do not cause any significant impact on your body. So if you're on a diet, you can easily use a herbal tea to curb hunger and thirst. Most persons do quit dieting because they do become very hungry after eating and drinking very little as a result of the restricting nature of these diet programs. You can easily overcome this hurdle by including tea in your diet. It can easily take care of the rumbling empty and you can also use it to quench your taste from time to time instead of drinking plain water, after herbal tea zero calories.
In choosing a herbal tea, the most important thing to look out for is a herbal tea that have the flavor that you like. To help you solve this problem, we have outlined some of the herbal teas with the best flavors below, so you might want to go through the list, prepare some and determine the one with the flavor you like best and stick with it.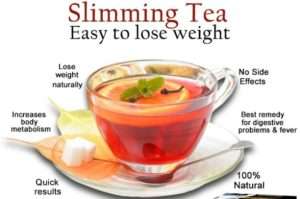 Top 10 Best Herbal Slimming Teas For Weight Loss And Their Prices

Talking about the best slimming tea as seen in this post does not mean there are no competitive herbal teas? we give out this info to the best of our knowledge based on data gathered, testimonials from users and online research.
Also note that the prices of these slimming teas are not static, they are bound to fluctuate as this controlled by the forces of demand and supply. Prices are not the same everywhere, that is why we are providing you with estimates and ranges the amount would most probably fall within.
1. Green Tea
Green Tea is a very popular tea around the world. Green Tea is regarded as one of the best herbal slimming tea for weight loss by most experts and often recommended for those who are on diet. One of the most important components of this herbal tea which help with weight loss is an antioxidant called Epigallocatechin Gallate of EGCG. This antioxidant actually affects the activities of fat cells in the body and causes them to break down. It has also been found through various research that the powerful antioxidants in green tea also speeds up the body's metabolism and as such helps to burn off more fat.
PRICE ESTIMATE: 1,500 – 2000 Naira
2. Peppermint Tea
Aside from being used for relieving cough, treating diamond and insomnia, Peppermint tea is also a very well-known tea for slimming (weight loss). This tea can help promote good digestion of food thereby increasing the body's rate of assimilation and food burn off. To make Peppermint tea an even more potent weight loss tea, most experts recommend that it be combined with green tea.
PRICE ESTIMATE: 1,000 – 1500 Naira, this also depends on the Pharmaceutical company or store.

3. Oolong Tea
While most people are familiar with the ability of this herbal tea to cure insomnia, few, sadly ever consider it for their weight loss program. It is one of the best herbal tea for weight loss especially for those looking for a way to shed off excess fat from the arms and belly. Oolong Tea has been around for a very long time and very popular in Asia. This tea is reputed for its potent antioxidants content which can help increase the rate of fat burn off. It has been shown through research that Oolong Tea can actually increase the rate of body metabolism by at least 10% within two hours of drinking the tea!
PRICE ESTIMATE: 3,000 – 3,200 Naira
4. White Tea
White is one of the least processed herbal tea and as such contains as much as twice the antioxidants found in other herbal teas. White tea helps in losing weight because it prevents the formation of new fat cells in the body and in the breakdown of existing ones. The powerful antioxidants responsible for these processes in the body is polyphenols, which is found abundantly in white tea.
PRICE ESTIMATE: Between 1,500 – 2,000 Naira
5. Hibiscus Tea (Zobo Drink)

Hibiscus is well-known for its exceptional beauty as a flower and most use it for decorative purposes but few are actually familiar with the powerful antioxidants locked within the flowers of this wonderful plant which can be fully unlocked in a cup of hot water. Hibiscus helps to boost the rate of metabolism and aid quicker fat burn off thereby promoting quick weight loss.
PRICE ESTIMATE: This is relatively cheap, you can get this for not above 500 Naira no matter how well packaged it is.

6. Rose Tea
Rose Tea helps to curb sugar cravings – a huge cause of excessive weight gain. This tea also contains lots of antioxidants that have been shown to increase the body's rate of metabolism.
Price goes for around 500 to 1000 Naira per pack
7. Bilberry Tea
Bilberry Tea is well-known for its ability to suppress hunger. This helps you to eat fewer foods and keep your weight in check. Bilberry tea also helps to curb sugar cravings.
PRICE ESTIMATE: 1,000 – 1,200 Naira
8. Chamomile
Chamomile Tea naturally helps to improve digestion and helps to curb hunger. by so doing, helps burn out fats.
PRICE ESTIMATE: 700 – 1,000 Naira
9. Ginger Tea
Ginger tea has a lot of help benefits and you should consider incorporating it into your diet even if you are OK with your weight. It contains powerful antibacterial properties that can help keep your body healthy at all times. Ginger Tea is reputed for its ability to keep hunger at bay, thereby helping you to cut down on the foods you actually eat.
PRICE ESTIMATE: 5,00 – 900 Naira this depends on the location.

10. Rooibos Tea
What makes Rooibos tea really popular amongst weight loss is the abundant presence of Aspalathin, a flavonoid which helps regulates the activities of fat storage hormones. The body releases hormones which helps to stimulate body cells to store fat and trigger hunger and when under stress, the rate at which this is done is increased. The flavanoid from Rooibos has been shown to take care of this problem by regulating the activities of these hormones.
PRICE ESTIMATE: 1500 – 1,700 Naira
The above are some of the best herbal tea slimming tea for weight loss and the prices you can get them anywhere within Nigeria. You can have fun preparing these Teas one after the other and find the one with the best flavor for yourself.
One beautiful thing about herbal tea is that its very easy to prepare – a hot cup of water and a bag or powder of the tea and you're all set to drink to your health.