The increase in students opting for MPH (Masters in Public Health) in our various tertiary institution is rapidly on the rise and we term this a welcome development especially in the health sector. The field of public health remains plagued with lots of challenges and presents a daunting task to our skilled professionals. Everyday in their various ways and skills they battle to ensure that we the citizens live healthily. Currently, universities and other institutions offering medical courses are filled with bright souls who hope to save lives through the knowledge they gain within the walls of the academy.
For this reason, one wonders if their bravery, skills and commitment have a nicely rewarding payslip at the end of the month. Let us face it, just like the soldiers who put their lives out there to keep the security of the nation; our medical workers do the same saving lives. Hence, it is imperative that they get a monthly paycheck that shows we see and admire their services.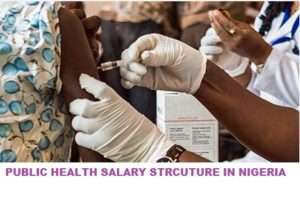 As a student of medicine or another medical profession, you should be confident that once you get out of the college walls and secure work in the Public Health Sector, that you would not just be saving lives, but you will be getting the financial means needed to balance your living.Hence,laying the foundation that makes sure that saving more lives is possible.
Salary Structure of Public Health Workers In Nigeria For 2023
Who Are Public Health Workers?
The term public health workers or staff will not be a thing of confusion to those within the medical field. However, for the sake of those who are not and might find it puzzling, Public health workers is a distinguishing term used to refer to Health Professionals who are charged with the task of improving the health of citizens in various communities that make up a state.
Health officers carry out this duty by educating the people on how to encourage healthy lives, doing necessary researches regarding injury and diseases prevention, and policies that benefit the masses within their coverage.
The government, international body, and other organizations could employ a public health worker. Based on this and other factors, the salary structure could change.
Factors Influencing Salary Structure of Public Health Worker In Nigeria
The Law of Demand and Supply:
The law of demand-supply affects salaries in the Public Health Sector. If community A needs the assistance of a specialist in Infection Disease control and community B needs that of chronic disease. The salary of a Chronic Disease specialist will be lower in community A when compared to that of community B.
When There is an Emergency Call:
If a community suffers a disease breakout, say Ebola, increasing lack of exercise, or polio, there will be an increased demand for the medical professionals that can manage the situation and bring back control and health improvement in the region. In such dear cases, the said Health officer needed for the task could have a high increase in salary to encourage him or her to put in their all in battling the challenge.
Educational Qualification:
There is nothing that speaks of an increase in salary like qualifications. The two significant determinants of salary scales for Public Health workers are Qualification and specification. The more a health staff is qualified for the duty available, the higher the check he goes home with.
For this reason, if you wish to earn a handsome payslip at the end of each month, as a medical student, aspire to get your MPH and other degrees till you are a Ph.D. holder.
To gain preference above others in your field applying for a job, it is good that you have at the minimum, an MPH degree.
The Availability of Experienced Health Workers:
This point is another significant determiner of the price scale. The medical field has lots of tasks that one person can not man alone. For this reason, lots of workforce are needed. Sadly, though there are lots of medical students, there are not enough qualified workers in various communities to handle the health protection task.
In such cases, as expressed above, the qualified personnel receive a higher paycheck and bonuses to encourage him or her to do their possible best in staying healthy and discharging their duty,
Work Experience In The Field:
A rookie and a veteran are not the same. An experienced person is titled that due to the many years he or she has had the chance to practice his or her profession. For this reason, most times, years of experience is a requirement for the job.
As a public health worker who has experience in your specialization, when moving to another branch or organization, your current salary structure determines what you earn in the new place.
Public Health Workers In Nigeria And Their Salary Structures
For those aspiring to serve humanity in the public sector and for those who are curious about what our nurses and doctors get at the end of the month. Here is the information we have gathered in that regard.
i) Epidemiologist (N250,000 to N650,000 per month)
An epidemiologist is a health staff who has gained the knowledge needed to study disease outbreaks. This set of people are professionals in their field and can detect a disease pattern, causes, and location.
aside from this, an Epidemiologist can discern through studies and gained knowledge, how these diseases can affect the people within the community and the population of the nation at large.
Because of the role these health personnel play, there is a need for their services for the control of maladies and future prevention. Without them, the medical sector will find it impossible to fight against illnesses and their ability to reoccur in the lives of people.
As a future epidemiologist, there are always opportunities available in Colleges, Universities, and other higher institutions. You can also join your fellow Health Workers in different Health firms and Centers, or you can join other government health organizations.
In Nigeria, an epidemiologist can be sure to get within N250,000 to N650,000 per month.
ii) Behavioral Scientist
The need for behavioral health scientist is now on the rise. Among the various disabilities that plague humans, it is on record that mental disorder is now the most common. Also, as the day progress, the occurrence of mental issues is rising. Presently, mental challenges are more common than heart disease, cancer, and diabetes.
In America, the case of the psychological malady is worse than any other country in the world. Based on studies carried out, it is public knowledge that about 26% of all American citizens, age 18 and above meet the markers of having a mental disorder in the future.
While this Intel is astonishing, the world health organization has revealed that half the population of the world is affected by one mental illness or the other,
For these various reasons, the health workers specializing in psychological disease are on the rise. Though their salary structure in Nigeria is currently not available, in America, they take home about $46,000
iii) Bio-statisticians (2.2 Million to 3 Million Monthly)
Bio-statisticians are also essential in the Medical sector. These people deal with gathering and analyzing statistical data for most topics under biology. When it comes to the handling of information regarding numbers, they are the ones that manage this field.
A bio-statistician works with his fellow health officers, and helps them to gather, analyze, conclude, and interpret data and its result illation.
Through the services of a Biostatistician, things like disease control and surveillance are possible.
As a student under this specialization, if employed in a foreign organization, you can expect your pay slip to be within the range of $72,000 to $80,000per annum which is about 26million Naira
iv) Pharmacists (

N

100,000 to

N

600,000 monthly)
Pharmacists are health workers who are tasked with the duty of producing drugs that are safe for human and animals' consumption. They ensure that the medication that man consume is not only safe, it is also useful.
You can see these set of health professionals in various organizations and firms in the health sector. As a student of Pharmacy, you are sure of getting employment in health facilities, managed care, hospital, communities, the industry of pharmacy, and other organization with a slot for your services.
The average paycheck of a medication specialist ranges from N100,000 to N600,000 monthly as it depends on the company and the management level of the staff.
v) Nurses (

N

75,000 to

N

150, 000)
This set of health professionals are the fulcrum of health education, sickness prevention and, general promotion of patients' well-being. The profession nursing is ancient and began almost at the same time as man.Throughout the years, this profession has not diminished or cease to exist. Instead, it has further developed and defined its boundaries.
A nurse knows how to attend to the physical, spiritual and psychosocial needs of their patients. This skill they obtained through the definition of their art, science, language, and rituals. In reality, a nurse is any person that has the knowledge and requirements through training and certification to reduce the suffering of patients, promote the prevention of illness, and enhance the health of their patients.
When compared to a doctor, the important line between a nurse and doctor is that nurses lack the right to prescribe medications and diagnose the problem of a patient.
Your salary expectation as a nursing student should be within N 75,000 to N 150, 000 based on your qualifications and experience.
vi) Ophthalmologist, Opticians and Optometrist (

N

200,000 and above Monthly)
Ophthalmologists are doctors who have the mandate to care for the eye in ways like conducting eye surgery. They also carry the responsibility of treating and diagnosing eye diseases and injuries.
Opticians are eye technicians who have acquired the critical skill of designing, verifying and putting in place of eye lenses and frames to create a prescribed monocle for patients.These professionals also handle the creation of contact lenses among other eye correction devices.
An Optometrist is a health professional that is skilled in making available, basic vision care for patients suffering eye challenges, this said health workers are the ones in charge of vision and eye testing, eye correction, diagnosis of vision changes, management of sight changes, and treatment of sight adjustment.
As a student of any of these various branches of eye care, you can be sure to get employed in different firms and organization of Public Health, due to the delicate nature of the eye.
The salary range of these three eye specialists starts from N 200,000 monthly.
vii) Physiotherapists (N 100, 000 per month to N 250,000)
A physiotherapist is an allied health professional. This health field utilizes movement and mechanical forces, manual therapy, electrotherapy, and exercise therapy to address impairment issues.With the help of this health specialist, patients can have improved mobility and function adequately.
People who can benefit from this set of health personnel which includes those who sustain injuries, aged men and women, those who are ill, and individuals suffering from various disabilities.
Physiotherapists are an essential part of the health team. As people carry out their various activities, issues of broken or shifted bones do occur among other mobility impairment. When such problems arise, it is the work of these set of health staff to help affected individuals get back to their full health.
The average salary of a Physiotherapist starts from N 100, 000 per month to N 250,000.
Viii) Laboratory Scientists (N 80,000 to N 150,000 Monthly)
The laboratory is an integral part of the medical sector. It is in the lab that much empirical evidence has a life.For this reason, you cannot overlook lab technicians or scientist.
Most patients when diagnosed love to see evidence to proof their challenges are what the doctor or specialist concludes. As studies have shown, 70% of the evidence provided to health-challenged persons are from the lab.
In the health sector, quality health care mostly stems from quality lab professionals and state-of-the-art laboratory standards. For this reason, the laboratory and its professionals are the cornerstones of high standard laboratory medicines.
A Laboratorian is a health investigator. He or she helps fellow physicians to uncover challenges by investigating the infected area and present information gathered from the analysis. Based on the nature of their work, they play a significant role in helping statisticians and other related disease control personnel to monitor and prevent maladies.
The monthly pay of a Laboratory scientist starts from N 80,000 to N 150,000 monthly
CONCLUSION
The figures listed here are the current monthly salary structure for public health workers in Nigeria. So, if you are a medical student considering the Public Health sector as a place to start your carrier, we are happy to have you. You should also note that the figures expressed here do not cover the monthly allowances and other bonuses that come with the job to assist you to battle the hazards that plague the field.
Your inputs would be highly appreciated as you read through. It would be of immense help to others and would be updated on our blog after verification.
You can subscribe to our blog to keep getting unique and fresh contents via email notifications as we update our blog with new posts.